Journaling for beginners, Journaling tips & techniques
Healing through The Art of Journaling – A Beginners' Guide
How to heal yourself using the power of journaling?
So the other day while I was working on my writing projects, I uploaded my morning pages images on my Instagram stories. A few moments later, I had around seven to eight DMs asking about my practice of writing in these pages. They were so eager to know all about healing through journaling and its benefits. But most importantly they had no idea what journaling was and how to begin.
It was quite impossible to reflect my learnings on the healing effects of journaling just through some text message and hence I thought of writing a series of blog posts on everything about journaling.
This is the first blog post in the Journaling series. I will walk you through all the basic steps on how to journal and how journaling can actually benefit your mental health.
Grab your favorite cup of coffee and let's explore this art of healing through journaling.

Healing through the Art of Journaling – A Beginners' Guide
This is a beginners' guide to start a mental health journal so even if you are just someone who isn't creative or has nothing to do much about writing, you don't need to worry. This is exactly for you and I am so proud of you for taking this initiative for your mental wellness. Before diving in, let's bust some myths about journaling.

Some common Journaling myths:
You need to be a writer if you want to start journaling ( I taught journaling to a 7-year-old kid who definitely wasn't a writer of any sort) 

You need to have a perfect sense of grammar such as tenses, punctuations, prepositions, and what not!       

( Well again, that 7-year-old didn't know any of such stuff either)

Journaling is when your mind is at peace. ( that's totally opposite)

You cannot just talk with yourself and get cured. ( Remember, journaling is a tool but not necessarily a substitute to therapy)

You are too busy to write the stuff you already know. ( you are never too busy to heal yourself)
I know, it gets hard at times to write out everything that is bothering you and you tend to give up making some random excuse inside of your head. But know that it is okay to slow down rather than giving up on it.
Let's dive into what journaling actually is.

The Art of Journaling
You may have this thought and image of a teenager writing stuff in his/her personal diary and keeping it somewhere inside the locked closet. When I was in high school, I used to carry my diary everywhere along with me and used to write all the inspiring quotes and compose tiny poems with all the scribbles. But journaling is way more than just having a diary.
I love putting it in this way:
[pb_blockquote]Journaling is my dedicated listener even everyone turns their ears off.[/pb_blockquote]
When everyone and everything fails, it's journaling that shows me the way through words without any judgment. Writing has healed me in the way that no words can express and I am so grateful to have known this therapeutic art of journaling.
Journaling is your judgment free-zone where you can be yourself, unapologetically. Where you can put up your darkest demons on the paper and watch them surrender in your mightiest ink. Make your journal a safe space for yourself where you can show up anytime and ask support.
How to journal?
There are no rules or any follow-up guide to learn this art of journaling. Simply sit with yourself and write down everything that troubles you. Start with the first random thought that comes to your head. Do not worry about the destination or the conclusion of your journaling, just enjoy the flow.
There is no right or wrong way when it comes to putting your thoughts on paper. It just requires a sheer dedication to show up daily and making it a sacred ritual. Always remember the purpose behind journaling and I am sure that force will be enough to keep you going.

Here are some points to keep in mind while you begin to journal your thoughts:
There is no right or wrong way to journal.

Write about the first thing that comes into your mind while you start.

Do not be hard on yourself. It's okay to not know what to write at times, simply reflect within and talk to yourself.

You don't have to worry about any grammatical mistakes.

Take it slowly, one day at a time.

Write continuously for at least 15 mins or set a timer to avoid distractions.

Honor yourself as you open up on these pages.

Avoid having breaks during your writing practice.

Do not judge yourself or be a self-critique while journaling.

This is your safe place and it is totally up to you to keep it a secret or not.
 I totally loved this acronym WRITE when it comes to journaling:
W- What you want to write
R – Reflect on your thoughts
I – Investigate where your thoughts are landing
T – Time yourself ( minimum of 15 mins is always recommended )
E – Exit with the introspection
Note that this beautiful acronym is by PositivePsychology.com
As I said earlier, there are no rules when it comes to mindful journaling. Just sit aside either in early mornings or late evenings with your favorite journal and dump down all your thoughts.
Setting up the Journaling vibe:
I mostly write and practice my journaling during the mornings. It is really beneficial to start with some meditation and ten proceed with this therapeutic art of journaling. I love writing in peace and nature under the sunlight.
Setting an environment where thoughts come easily to you is also very necessary. Hence, I use my favorite candles alongside my writing desk. I totally am a big fan of having flawless pens.
Below are some of my favorite products. Check them out if that appeals to you.
Here is the detailed post on what I write in my morning pages and how it helped me find clarity.
Journaling helped me at my lowest lows and I am sure this tool is going to help you too. As a beginner, it will seem overwhelming at first but know that this isn't any race and there is no such word like perfection here. Healing through journaling is a gradual process, let it help you evolve.
You are going this for yourself. Make it the way you like.
Moreover, we cannot deny the scientific benefits of journaling. It is well proven that Journaling is helpful for reducing stress and anxiety. It has the sheer power of pulling you out from the darkest hole and letting you meet with the brightest of shines. 
Read here all about some scientific benefits of Journaling.
My journey of healing through journaling has not been the easiest one though. But here are some practical tips on how to keep going when the journey gets tougher.
What to do when it gets difficult to practice journaling?
Some days will be difficult, utterly difficult when you won't be willing to face your journaling pages. On such days, you may totally feel like giving up and discontinue this whole process.
But my dearest, believe that you are doing your best and I am proud of you for trying this art of journaling. It is all okay to rest and reduce your time or just write a single page on such tough days.
I personally feel drained out sometimes and on those days I begin my journaling with; I feel…I think….and it gives me the power to realize my thoughts and to choose again.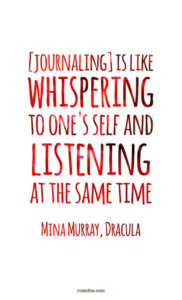 I forgive myself on these pages and be my own mother. In the next blog post, I will explain in detail how to mother yourself, what to write along some therapeutic prompts.
But it is all possible when you pick the pen and start this practice, devotedly.
I can only guide and inspire you to start with this art of journaling for your mental wellness but it solely depends on you to show up and grab yourself out from the webs of thoughts.
In my self-care routine, the first thing I add is always journaling. It is of utmost necessity for nourishing my mind and soul.
Here're some resourceful blog posts if this resonated with you.
1. How to be in alignment using journaling.
2. How to maintain consistent journaling habits
3. Journaling to process heavy emotions
4. 13 miraculous benefits of journaling consistently