Journal prompts, Journaling for beginners, Journaling tips & techniques
How to create a daily gratitude journal and stick to it
With everything happening around the world, it's normal to forget how blessed we are. Gratitude is a strong emotion that makes you feel grounded even when things are rough and life doesn't seem happening your way. Having a daily gratitude journal can make you aware of your blessings and keep your mind wired on all the positives instead of always rambling about negativity.
However, practicing gratitude isn't always easy hence it's advisable to have a daily journaling habit where you can return back daily and express your gratefulness.
'But how can we grateful when nothing great is happening in my life?', this was so me before I started my regular journaling practice. I always used to wonder how can someone be thankful even when their world is turning upside down. This is when I finally decided to pick a daily habit of practicing gratitude journaling even when my life was not so great.
As I read more about being grateful, I learned how the forces in the Universe work. The more you count your blessings, the more you attract them.
While this wasn't my sole aim of starting with a daily gratitude journal. I made it a rule to end my journaling session with a positive note always. So, I either end it with positive affirmations ( grab my free affirmations printables here) or with the gratitude note.
If you're someone who's skeptical about starting this practice of daily gratitude journaling, stay here till the end and I 'm sure you will be convinced to start your own gratitude journal.

Why you should start a daily gratitude journal?
Well, we all have this thinking, unless we are told the benefits of something new, we are not pumped enough to pursue that. Having a daily gratitude journal has its own benefits and I'm sure you will be excited to start your own daily gratitude journal after reading the benefits.
Gratitude journaling is the source of finding more happiness. Happiness surely is an inside job but when you're grateful for what you have, you attract more of it. Gratefulness creates happiness.

While practicing gratitude journaling daily, you find joy even in little things which helps you to not take things for granted.

Gratitude journaling keeps your mind and body healthy. It helps you change your thought patterns and you find more hope.

You start looking at the brighter side which means you turn more into optimistic behavior rather than getting attracted to negativity.

Having a daily gratitude journal routine helps you get better sleep because you are always thankful and satisfied with everything you have.

Gratitude journaling brings peace and calm into your life while reducing stress and anxiety.
How to start your own daily gratitude journal
I'm writing this super early in the morning sun and am super blessed to do the work I love. I was at the place where I hated my day job and wanted to create sources through writing. And here we are after 4 long years of the daily hustle of working full time and honing my art, gratitude brought me here.
It's really easy to find reasons to complain and nag about our own life. However, when you start practicing gratitude, you will realize the gradual shift in your thoughts. I didn't like my job but I was grateful for the time I was able to devote to my writing too.
This can happen when you set a routine or practice a ritual of expressing gratitude through your own daily gratitude journal. Here's the simple thing – grab a journal and start writing everything you're grateful for, daily. But we are totally going to dive deep into this ritual that I practice through my journaling session.
Select your favorite journal for your gratefulness ritual
Having your own favorite journal will give you the feeling of coming back to it daily. If you're someone like me who loves collecting beautiful journals, you're surely going to love this process. Go to a nearby stationery shop or surf online for some beautiful journals; I'm sure, you will find your style.
However, if you don't really have time to wait until your brand new journal arrives, you can decorate your old journal or bind some pages and create your tiny, pretty notebook. I highly insist to not skip this step for it's so crucial to have your own journal where you can return back to daily.
Give a name to your journal, I gave a simple one; My daily gratitude journal. Also, there's no compulsion of showing your journal to anyone. This is your sacred space and you can dive at your pace. Besides picking up your favorite journal, you can also grab some of your favorites stationery items.
I love these pens and tapes, they make my journal look super pleasing and colorful. ( You guys, I'm a total stationery nerd + addict) I'm linking my favorites from Amazon below, feel free to check them out.
Have a dedicated space
I cannot quite stress on how important it is to have a dedicated space for your journaling sessions. It can be anything like your Zen den or your office desk where you can show up daily and practice gratitude. I have my working desk as the sacred space where I show up daily for my gratitude journaling.
You can make decorate your space in your own style and bring some personal touch. I love this vanilla flavored candles for my sacred space and I also play some soft music while writing. I make sure that the music isn't disturbing my thoughts so I usually play soft nature sounds.
Besides this, I also have a dream-catcher hanging up on the wall, which makes my space look so beautiful. This makes me to always show up and do the work.
Create your own ritual
Make your own ritual like which time of the day you will be dedicating to your gratitude journaling or how much time per week you will love to devote to this practice. It's so easy to go without writing for weeks and yes that happened to me. When it's not scheduled or onto my list, I tend to forget doing it.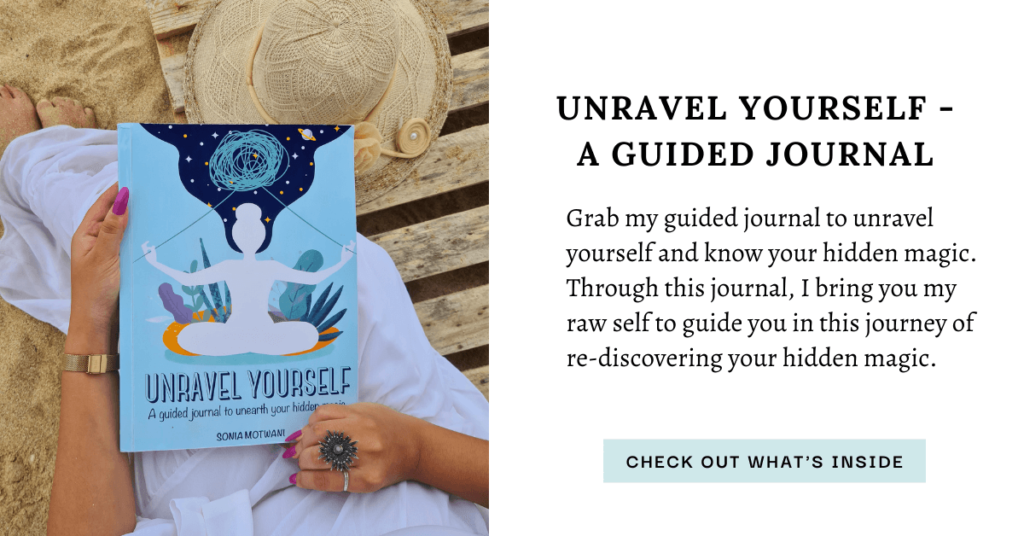 Especially when life gets hard and you cannot seem to find anything you should be grateful for, it's easy to skip a day, week, or even month. To avoid this, create your own ritual or routine. I have my dedicated journaling routine in the morning but I love writing in my gratitude journal during bedtime.
You can try out both and see what works for you. This will help your mind to settle down and focus on gratitude. Again, there are no rules when it comes to having a daily gratitude journal, you can always find your style sooner or later.
Find your own way of expressing gratitude
Now that we have a dedicated space and a beautiful journal, it's time to dive into the practice of gratitude journaling.
Having a daily gratitude journal is something very personal and close to heart. Some people prefer writing down the lists of things/people they are grateful for while others love expressing gratitude in long paragraphs. Either way, it always works.
When you're in a hurry or have had a rough day and you cannot think of anything you should be grateful for, the lists always help. I personally prefer writing thank you notes or a letter of gratitude but somedays I prefer writing the list just to count my blessings.
I know, life gets hard and your inner self will always come ahead and argue ' Are you grateful for your irritating job or unfulfilled life?' During such times, remind yourself that you're still alive and that solely can be the strong reason to express your gratitude.
Just when you don't know what to write; start with I am grateful for…… or I am thankful for showing up on this page and ability to express gratitude even when life gets rough. Celebrate your life on these pages.
---
How to develop a habit of practicing a daily gratitude journaling
As we discussed, it's super easy to skip a day and to totally forget about your own gratitude journal. Let's be real and admit it that we are super busy and there are like zillion other tasks waiting for us. However, journaling is indeed a personal choice and commitment.
Just as you cannot force someone to become their best self, you cannot force someone for journaling. But, I would highly insist on developing this habit even if you start with 10 mins a day. Here are some of the ways that helped me to develop the habit of daily gratitude journaling.
Write at least once a week if you cannot do it daily in the beginning
I can totally understand if you feel it daunting to write every day in your daily gratitude journal. For someone who isn't fond of writing, you can try writing in your gratitude journal for at least once a week.
Decide a day when you're free, Saturday night, or Sunday morning where you can dedicatedly focus on your gratitude journaling.
Many of us have a belief that journaling is only for the writers as they love to write and they know what to write. While this isn't true at all. Here are some of the myths regarding journaling that we need to unlearn.
It's okay to write once a week if you cannot commit to the daily task. The only aim is to rewire your mind to look at the positive/ brighter side of life.
Have your own daily gratitude journal
Having your own curated daily gratitude journal will prompt you to show up daily and write something. If you're not willing to write long paragraphs or essays on what you're thankful for, you can also make a list of things you are blessed with. When you do it daily, it eventually becomes your habit. This is why it's important to create your own ritual for gratitude journaling.
Give yourself some reward for showing up on pages
I love giving myself some rewards when I hit certain goals. Just as an example, I really have bad habit of not drinking enough water. So I made this deal with myself that every time in a day if I drank 8 full glass of water for a week, I will gift myself a new journal or some stationery article.
Likewise, you can also set some rewards for yourself in order to develop a regular practice of gratitude journaling.
The good news is that starting a habit is easy. Select your motivating reward and give it to yourself on a short or long-term schedule that makes sense to you whether nightly or after 30 uninterrupted days of journal writing.
These tips have helped me set a schedule for myself and continue with this beautiful art of journaling. I'm super sure that you would be enough pumped to start your own daily gratitude journal by now.
Don't forget to check our my favorite journals and my course that will help you kickstart your journaling journey. Also, I would love to know about your journaling practice, do drop your views in the comments below.