Journal prompts, Journaling for beginners
11 Brilliant Journaling prompts specially for beginners
You may wonder, I always tell so much about journaling but sometimes we do get lost when we don't know from where to begin. Starting journaling practice could be daunting in the beginning but when you proceed step-wise, it will be so rewarding at the end. This is where Journaling prompts for beginners come to the scene.
But first thing first, this is the third post in the Journaling series so if you haven't already read the previous ones I strongly urge you to go back and refer them.
Here is the detailed step by step guide on how to get started with journaling – Step 1.
Here is the post on finding your voice and picking up your own journaling style – Step 2.
When you are all done with the first two steps, it's actually the time to start the work. And believe me, it is all worth your time and effort.
In the end, you will be gifting yourself a blissful practice that will help you understand yourself in the best way, bring clarity, and most importantly you will have a better relationship with yourself.
When I started with journaling practice, I was so lost in the beginning because I had no idea what to do with that black gorgeously beautiful book lying in front of me. I read and researched a lot on how to get started but I failed to find out exactly what to do on the first page when those blank sheets stare at you strangely.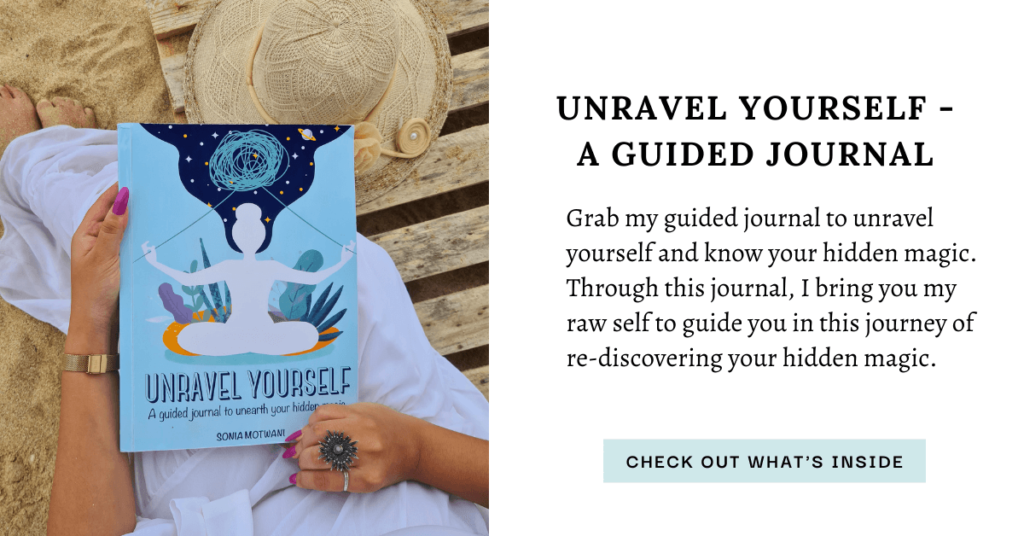 If you feel the same, do not worry about this is the exact post you are looking for. I will take you on a beautiful ride of meeting your journaling mates that will help you fill those crisp pages with beautiful thoughts. Guess what – you are going to write those utterly beautiful thoughts by yourself.
The benefits of journaling are also scientifically proven now and it has helped so many people all around to release stress and anxiety, to maintain mental stability, to be in the present moment.
There is no specific way of journaling or any particular journaling technique to follow. But here is the catch, there is no wrong practice here.
If you have read the first post in the series of Journaling for beginners, I have busted the so-called famous myths on journaling that you definitely need to get out of your head.
So this journaling practice isn't only for writers or artists but for everyone who is seeking peace and clarity.
There are many journaling prompts on self-discovery, self-reflection, healing but when you are a beginner you actually are like a blank slate, and grabbing all the resources will just overload you.
Instead, I have listed the top best useful prompts that will kickstart your journaling practice and you won't ever have any excuse of not knowing where to start from.
What are Journaling prompts?
Journaling prompts are actually the questions or topics for you to get started with journaling practice. We often find ourselves staring at the blank pages for hours without actually knowing what to write.
Hence, to save you from this heartbreaking pain and misery, these journaling prompts to guide you to pour your heart out on paper.
The journaling prompts could be divided into different categories as I mentioned earlier but I wrote this specifically for beginners.
These are the bunch of prompts that will help you get started when you don't know what to write or from where to begin.
When to journal?
There ideally is no specific time of journaling but I highly recommend journaling in the mornings when everything is so quiet and blissful. Another reason for journaling in the morning is to have a fresh start of the day with a proper brain dump.
When you get your thoughts and ideas on paper, you actually feel light and can work better for the rest of the day.
I personally write my morning pages before beginning my daily routine and it has helped me stay focused always. I also add journaling as the first thing to my daily self-care planner.
Grab my self-care planner for free from here.
Error: Contact form not found.
Here is the detailed post on how I write my morning pages and what actually I write in them.
Night journaling is also an effective way to put you to better sleep. It is normally referred to as meditative journaling where you note down the daily activities and end it up with the list of gratefulness.
It totally depends on you how to keep your journaling routine but it surely will come with a dedicated practice.
Journaling prompts for beginners
Before diving into this area, remember that there is no right or wrong way of journaling. Just go with the flow and let it cleanse you from all your worries.
Let's begin with some journaling prompts and then I will guide you on how to use them to bring out the best from yourself.
I highly suggest grabbing your new favorite journal before starting.
1. What makes you jump with joy and takes your heart on a blissful journey of peace? ( talk about everything that brings joy into your life)
2. Write a letter to the place you call 'Home'? How safe and protected do you feel?
3. If there was a time in this world where all the wishes are granted, what will be your top three wishes and why?
4. How are you feeling at this current moment? Is there something bothering you? Write it out in detail.
5. What are the five things that you love about yourself the most?
6. If you can change one thing about yourself, what it will be, and why?
7. Write down the three tiniest things in your life that you are most grateful for.
8. What do you believe no longer serves you and is holding you back? Do you think you need to practice letting it go?
9. What forgiveness looks to you? What will you forgive yourself for today?
10. How about living in a world full of kindness? Are you kind to yourself?
11. What would you do if you finally believe in the idea of everything is possible?
These are few prompts to get you started but I know you would be wondering how to use them.
How to journal using prompts?
When you are a beginner in the process of journaling, it is all okay to take the help of some prompts to get you started. Even I use the prompts to get me started and for some deeper understanding.
You can use the prompts chronologically or even abruptly picking out any number that calls your heart.
Just write down the prompt on your newest blank page and start writing endlessly until everything from your head is bumped on the papers.
I usually write three pages and sometimes two are also enough. But then everyone is different and we all have different journaling style and technique.
Do not worry if at first, the ideas fail to land. Just know that it will all come along with practice and dedication.
Journaling has helped me gain so much clarity and peace of mind and I really hope that you too attain freedom among these pages.
Do not give up because it is tiresome or you aren't finding words, trust yourself, and gift this beautiful art of journaling to your mind, body, and soul.
I would love to know your thoughts on journaling using prompts in the comments.
I also strongly urge you to share this with your friends or on social media to help everyone out there. Use the buttons above to share.
Other useful posts to read:
How to take care of your mental health during the quarantine.
9 self-care techniques to practice for relief and bringing calm.