Yesterday as I was writing my morning pages, I noticed that I was so surrounded all with anxious thoughts. Every now and then I had to remind myself to stay calm and not to get anxious.
But with the world happenings, I seemed to really get driven away with the anxiety and was just not able to replace my thoughts. The schools, offices, churches, malls everything is shut off and the whole world has become so standstill. 
I had a hard time convincing myself to calm down and replace my fears with faith but it just wasn't happening. My night schedule was messed up because of which I felt so drained and tired the whole next day. I was not able to concentrate on my work and bring out the best from within.
I knew that I had to work on this and learn to manage anxiety during this pandemic. I know this feeling is not uncommon and that many of us are suffering from this.
Hence, I have listed below all the coping tools + strategies to manage your anxiety during the COVID-19 outbreak. I pray you may find calm amongst the chaos all around.
A gentle reminder – We are all together in this.

How to manage anxiety during COVID-19 outbreak
Here are some of the most helpful strategies and tools that I use to calm myself down whenever I feel anxious. However, do remember that you may want to seek a professional during some serious situations.
1. Stick to a (healthy) routine
I cannot stress how important it is to have a proper schedule throughout the day. Having a healthy routine keeps your mind and body in momentum and hence reduces the chances of worrying about not knowing what to do. Prepare a healthy schedule that nourishes your mind, body, and soul.
During the beginning of the lockdown, my entire routine was messed up and I had no idea what I should be doing after waking up at almost lunchtime. But I gave myself some time and figured out what worked best for me.
I have a proper planned morning + evening routine and I urge you to have the same. Try including exercise, writing morning pages, meditation, affirmations, healthy breakfast or have a self-care routine.
Here is the detailed post on Practicing self-care during pandemic + free self-care planner.
2. Practice Journaling
This by far is my everyday got-to tool to relax and calm myself down from anxiety. Writing has helped me tremendously and I am so grateful to do morning pages. I urge you to try writing two pages in the morning, the free writing just to pour down your thoughts onto the paper.
There are no rules no obligations, just write your heart out + practicing gratitude journaling is also the best way to stay grounded. Here are my favorite journals. Pick one up that calls you and just start writing.
Here is what I write on my morning page and how it helped me stay calm during anxiety.
Here is your guide to writing morning pages
3. Worry time
Yes, you read it correctly. Set and fix your worry time like 10-15 minutes a day where you are allowed to get anxious or tensed or worry. But after that time frame, you are not allowed to think about any such thing that caused you anxiety.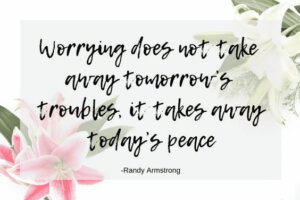 This is something like no complaint day where you keep a check on yourself and try not to complain for the whole day, just by being grateful.
I usually set my worry period during my morning pages. I write it down all and keep a close lookout at my thoughts during the day and avoid everything that triggers my anxiety.
4. Breathing exercise
Long deep breaths are the best tool for bringing calm especially when it is hard to stop anxious thoughts or you are having panic attacks. While practicing breathing exercises, you are giving the signal to your brain for coming out from flight or fight state which is the main cause of your anxiety.
Here is the super helpful post on Breathing exercise.
I use this method during my exercise time while practicing meditation. There are few apps available for the same on Playstore like Calm, Breathwrk, The tapping solution.
Here is the MarieTv interview on How to release stress.
The best part of this workout is you don't need any equipment or a specific place to practice + it shows results in 10-15 mins too. I suggest you try this out whenever you feel your thoughts running out of your control.
Check out his 'Breath' Anxiety workbook which has helped me a lot during my rough phase.

5. Get into some creative hobby
Indulge yourself in some projects or creative work. This has nothing to do with creating a masterpiece or instaworthy images. It is solely for bringing peace and calmness to your soul.
Art has miraculous powers of healing and it surely does wonders. However, don't get into the idea of comparison or competition.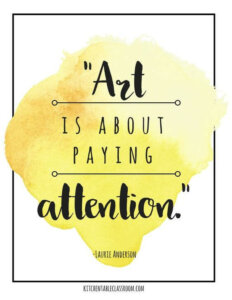 Your sole purpose is to calm your soul and help yourself from getting anxious thoughts. Art therapy works best while healing anxiety.
I usually get my inspiration from Pinterest or Instagram.
6. Practice mindfulness
I am currently learning some coping tools from the course I am attending online by Mindful.org. Do check this out for its totally free until April end, its specially for releasing anxiety during COVID-19 outbreak.
Mindfulness simply means to be awake, to be present. We are so necessarily diverted that we forget what are we currently into.
When was the last time did you feel the taste of the food you devoured? When was the last time you stood still listening to the melody of birds?
It has become so difficult for us to be there, to be dedicatedly there while we are present physically.
Try practicing mindfulness and hold onto your mind for every single thought and action takes birth from our head.
7. Render Kindness
Do you know what makes you human? It's not your body or skills or even talents, it's your little act of kindness that spills the fragrance of empathy and love for fellow creatures.
This is a hard time for all of us, by us I even include animals. Show your kindness towards your mates and also towards the stray dogs or cats. It is in kindness that we fulfill the true sense of our existence and how much do you think actually costs for being kind!
Write letters to doctors, nurses, workers to show than how invaluable their work is. Spill kindness with every little deed you do. This will make you stay optimistic and grounded which will indeed help you manage your anxiety during COVID-19.
Grab these super cute Kindness Cards while you bless the world with your kindness.
During this time of uncertainty, we need each other more than ever and hence, I decided to write a support letter with all the resources and personal experience to help you guide through this hard time.
Grab your support letter from here.
I named it, 'A hug in the form of words'. May it helps you calm down and reduce COVID-19 anxiety.
Do let me know in comments about your favorite anxiety management tools. I would love to know and explore them.